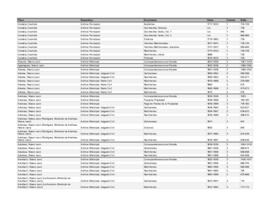 US TxSaT SC.052
·
Colección
·
1599-1972
After attending an international conference on Mexico held in New York in 1967, a group of Texas institutions came together to form a Texas Consortium as a special committee of SCOLAS (Southwestern Conference on Latin American Studies). Their aim was to record Mexican archival records on microfilm. The group's primary goal was not to compete with other microfilm projects but rather to complement and support them. Microfilming Mexican archival records served the dual purpose of preserving deteriorating and irreplaceable documents and making them more readily available to scholars in the United States.
By 1971, Trinity had become one of the sixteen institutions that joined the Texas Consortium for Microfilming Mexican Archival Material. Trinity took on the responsibility of microfilming records from Nuevo Leon and Coahuila.
Trinity collaborated with the Instituto Tecnológico y de Estudios Superiores de Monterrey (ITESM) and Tecnológico de Monterrey on their ongoing microfilming project in Nuevo Leon. Between 1970 and 1973, Trinity students played a key role in this project. They assisted in organizing documents for filming, compiled a list of microfilm materials sent to the university, and conducted research on historical information related to the region. Trinity's involvement significantly contributed to ITESM's ability to capture records spanning from 1599 through 1972.
Several other universities also participated in microfilming projects across Mexico. These institutions included the University of Texas at Austin, the University of Texas at El Paso, and St. Mary's University. These projects encompassed records and documents from the National Archives in Mexico City, as well as from the states of Coahuila, Nuevo León, San Luis Potosí, Chihuahua, and Durango.
Sin título