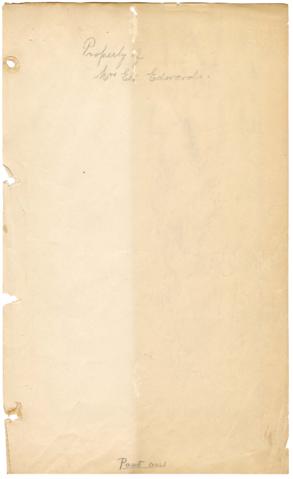 Zone d'identification
Nom et localisation du dépôt
Titre
John W. Sansom Manuscript
Extent
1 volume, 120 pages; 1 folder of loose leaves.
Nom du producteur
(1834-1920)
Notice biographique
John William Sansom was born in Dallas County, Alabama, on February 5, 1834. His family moved to the Republic of Texas in the winter of 1838-1839. Sansom joined the Texas Rangers in 1855, and rose to the rank of captain in 1856. During the Civil War Sansom was a staunch Union supporter, and joined the Union Loyal League, an underground militia. After the Battle of Nueces River, where the Unionist militia was attacked by Conferederate soldiers, Sansom escaped and joined the First Texas Cavalry, a Union regiment made up of Texan soldiers. In 1905, Sansom authored "Battle of Nueces River in Kinney County, Tex., Aug. 10, 1862," considered the authoritative account of the battle. After the Civil War, Sansom continued military service in the Texas Rangers until 1883. He spent the remainder of his career ranching, before retiring in 1904.
Sansom married Helen Victoria Patton in 1860. They had one daughter, Elizabeth. Sansom died on June 19, 1920 in San Antonio.
Zone du contenu et de la structure
Portée et contenu
Typewritten manuscript of the "Memoirs of John W. Sansom, 1834-1916." Written several years before Sansom's death, this volume includes his first person accounts of his childhood, Union support during the Civil War, involvement in the Battle of Nueces River, and career in the Texas Rangers.
Zone des conditions d'accès et d'utilisation
Conditions d'accès
This collection is open and available to the public for research in the Special Collections & Archives reading room. The materials are non-circulating.
Conditions de reproduction
The materials in this collection may be protected by copyright law (Title 17, U.S. Code). The materials are available for personal, educational, and scholarly use. It is the responsibility of the researcher to locate and obtain permission from the copyright owner or his or her heirs for any other use, such as reproduction and publication.
Notes de langue et graphie
Générer l'instrument de recherche
Éléments d'acquisition et d'évaluation
Historique de la conservation
Believed to have been purchased by Coates Library as part of the Beretta Texana collection in the 1980s.
Source immédiate d'acquisition
Évaluation, élimination et calendrier de conservation
Sources complémentaires
Existence et lieu de conservation des originaux
Existence et lieu de conservation des copies
Click on the thumbnail at the top of finding aid to download a pdf of this document.
Élément de notes
Notes spécialisées
Citation: John W. Sansom Manuscript. Coates Library Special Collections & Archives, Trinity University (San Antonio, Texas).
Identifiant(s) alternatif(s)
Zone du contrôle de la description
Note de l'archiviste
Finding aid created by Colleen Hoelscher, February 1, 2019.
Document numérique - métadonnées
Document numérique (Matrice) zone des droits
Document numérique (Référence) zone des droits
Document numérique (Vignette) zone des droits