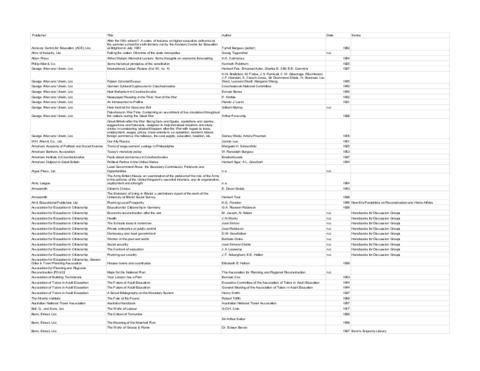 Zone d'identification
Nom et localisation du dépôt
Titre
Sir Henry Hardman Pamphlet Collection
Nom du producteur
(1905-2001)
Notice biographique
Sir Henry Hardman, KCB 1962 (CB 1956) was born December 15, 1905. He is the son of the late Harry Hardman of Old Trafford, Manchester, and the late Bertha Cook Hardman. He married Helen Diana, daughter of the late Robert Carr Bosanquet of Rock, Alnwick, Northumberland, and Ellen Sophia Bosanquet. He had one son, John Paul, born February 18, 1947, and two daughters, Anna Margaret, born January 22, 1945, and Charlotte Elizabeth, born December 29, 1947.
Sir Henry was educated at Manchester Central High School, and the University of Manchester. He was Lecturer for the Workers' Educational Association from 1929-1934, and Tutor in Economics at the University of Leeds from 1934-1945. He received an honorary LLD from the University of Manchester in 1965.
He joined the Ministry of Food in 1940; was Deputy Head of the British Food Mission to North America from 1946-1948; Under-Secretary, Ministry of Food, 1948-1958; Minister, United Kingdom Permanent Delegation to the North Atlantic Treaty Organization, Paris, 1953-1954; Deputy Secretary, Ministry of Agriculture, Fisheries and Food, 1955-1960; Deputy Secretary, Ministry of Aviation, 1960; Permanent Secretary, Ministry of Aviation, 1961-1963; Permanent Secretary, Ministry of Defence, 1963-1964; Permanent Under-Secretary of State, Ministry of Defence, 1964-1966.
He was a Member of the Monopolies Commission, 1967-1970 (Deputy Chairman, 1967-1968); Chairman, Committee of Enquiry into the Post Office Pay Dispute, 1971; Consultant to the Civil Service Department on the dispersal of government work from London, 1971-1973 (report published in 1973); Chairman, Co- vent Garden Market Authority, 1967-1975; Chairman, Home-Grown Cereals Authority, 1968-1977; Member of the Intervention Board for Agricultural Produce since 1972; Governor and Trustee, Reserve Bank of Rhodesia, 1967-1979.
Hardman died in 2001.
Zone du contenu et de la structure
Mode de classement
The pamphlets are arranged in folders either alphabetically by author, or numerically (if part of a series). The folders are filed alphabetically by publisher.
Zone des conditions d'accès et d'utilisation
Conditions d'accès
This collection is open and available to the public for research in the Special Collections & Archives reading room. The materials are non-circulating.
Conditions de reproduction
The materials in this collection may be protected by copyright law (Title 17, U.S. Code). The materials are available for personal, educational, and scholarly use. It is the responsibility of the researcher to locate and obtain permission from the copyright owner or his or her heirs for any other use, such as reproduction and publication.
Notes de langue et graphie
Éléments d'acquisition et d'évaluation
Historique de la conservation
Source immédiate d'acquisition
Purchased by Trinity University in 1983.
Évaluation, élimination et calendrier de conservation
Sources complémentaires
Existence et lieu de conservation des originaux
Existence et lieu de conservation des copies
Sources complémentaires
Some book-length items have been removed from the collection and cataloged individually. These titles are available via the library catalog.
Élément de notes
Notes spécialisées
Citation: Sir Henry Hardman Pamphlets, 1920-1973. Coates Library Special Collections & Archives, San Antonio, Texas.
Identifiant(s) alternatif(s)
Zone du contrôle de la description
Note de l'archiviste
Finding aid created by Colleen Hoelscher, December 20, 2019; revised January 7, 2020. Item-level inventory created by Jamiless Lopez, 2019.
Document numérique - métadonnées
Nom du fichier
Hardman_Pamphlet_Inventory.pdf
Taille du fichier
432.4 KiB
Téléversé
8 janvier 2020 10:56
Document numérique (Matrice) zone des droits
Document numérique (Référence) zone des droits
Document numérique (Vignette) zone des droits