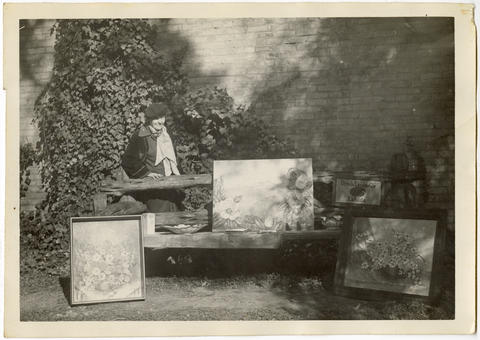 Elementos de identidade
Código de referência
US TxSaTua UA0143
Nome e localização da entidade custodiadora
Dimensão
1 slim document box (.25 linear feet).
Nome do produtor
(1872-1968)
História biográfica
Ursula Hall Lauderdale was born in Moberly, Missouri on July 29, 1872. She moved to Texas at a young age with her family, first residing in Gainesville and then Fort Worth. She moved to New York City and attended the Art Students League of New York and the Metropolitan Arts Studio. Her instructors included Michel Jacobs, William Devol, Robert Henri, Maurice Braun, and Frank Reaugh. She returned to North Texas and married attorney and Dallas county judge Edward Seay Lauderdale (1861-1930) around 1899. They lived in the Munger Place neighborhood of Old East Dallas and Highland Park. She was an art instructor at the Bush Temple of Fine Arts, a music conservatory, throughout the 1920s. During this time, she was most celebrated for the creation of a stained-glass window titled "Ruth" in the City Temple Presbyterian Church. Lauderdale was also involved in the Southwestern Chautauqua movement in Las Vegas, New Mexico. Lauderdale joined the faculty of Trinity University (then located in Waxahachie) as an art instructor for one year in 1928. She and Edward Lauderdale divorced in 1929, following her divorce she was briefly married to P.H. Rahl. They moved to San Antonio in 1930, and she set up a kiln and studio in the Menger Hotel, focusing on tile painting and oils. Lauderdale was part of the WPA Index of American Design Federal Arts Project, contributing several watercolor depictions of early American folk art. She was part of the first decade of studio artists in reimagined La Villita, setting up shop in 1946. In her La Villita studio she taught classes in portrait and china painting. She was a member of the Texas and National League of Pen Women and several art leagues. She passed away at the age of 95 in 1968. Lauderdale is considered to be an Texas impressionist painter, focusing on landscape and still-life, but is also identified as a "practical" folk artist working with wood, china, glass.
Elementos de conteúdo e estrutura
Âmbito e conteúdo
This collection contains material from Ursula Lauderdale, a Texas artist and former art instructor at Trinity University. It includes a small scrapbook, photographs, correspondence, documents, and news clippings. The scrapbook, clippings, membership cards, and many of the photographs help to illustrate her work as an artist during the early 20th century.
Condições de acesso e uso dos elementos
Condições de acesso
This collection is open and available to the public for research in the Special Collections & Archives reading room. The materials are non-circulating.
Condiçoes de reprodução
The materials in this collection may be protected by copyright law (Title 17, U.S. Code). The materials are available for personal, educational, and scholarly use. It is the responsibility of the researcher to locate and obtain permission from the copyright owner or his or her heirs for any other use, such as reproduction and publication.
Instrumentos de descrição
Elementos de aquisição e avaliação
Fonte imediata de aquisição
Donated by Ruth M. Fisher in 1983.
Informações de avaliação, seleção e eliminação
A 1928 Mirage yearbook had been physically separated from the collection and subsequently discarded as a duplicate.
Elementos de materiais relacionados
Existência e localização de originais
Existência e localização de cópias
Material arquivístico relacionado
Elemento de notas
Nota geral
Old identifier - UA 06-03-04
Notas especializadas
Citação: Ursula Lauderdale Papers. UA0143. Coates Library Special Collections & Archives, Trinity University (San Antonio, Texas).
Identificador(es) alternativo(s)
Elemento de controle de descrição
Nota do arquivista
Finding aid created by Abra Schnur, July 2020.
Objeto digital (Matriz) zona de direitos
Objeto digital (Referência) zona de direitos
Objeto digital (Ícone) zona de direitos